No Comments
Guys Night Out: Top 10 Best Las vegas Hotels For Men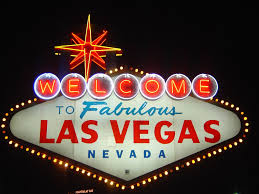 It's called Sin City and it's never going to be subtle.
Las Vegas, in all ways, is a paradise for single men of every demographic looking to party, go clubbing, hook up, get drunk and just go – sinning (or gambling, if you prefer). And Las Vegas hotels know that. That's why they're spending bazillions of dollars on entertainment and decor with this in mind.
Because who else is willing to blow some serious money on clubs where the hottest women hang out? Yep, single men like us.
For this list, we've rounded up ten of the best Las Vegas hotels in terms of nightlife, great entertainment options and their proximity to the strip. Drum rolls, please.
1.  The Cosmopolitan Hotel Las Vegas
3708 Las Vegas Blvd. South
Las Vegas, NV 89109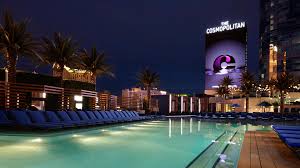 Hang out by The Chandelier – a three-level bar that's literally gigantic chandelier adorned with two million crystals and every kind of poison drink known to man. Across the hall, join those hot Colombian models by paying for ridiculously overpriced drinks at The Marquee – A loud, hip, happening club that'll probably put a dent in your wallet. But, whatever.
2. Palms Casino Resort
4321 West Flamingo Road
Las Vegas, NV 89103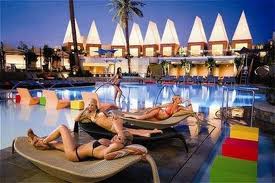 Yep, this was where Britney Spears partied before her first marriage. With great clubs like Rain and Ghost Bar, It's hard to be logical when you're drunk and surrounded by celebrities gone wild and hot bodies rocking tiny bikinis. Anything crazy is possible – even marriage (tread lightly, divorcés). Now if you could only get in…
3. Venetian Resort Hotel Casino
3355 Las Vegas Blvd S,
Las Vegas, NV 89109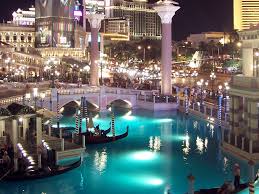 True to its name, The Venetian transports you to Venice – with its ornate decors and elegant rooms with marble bathrooms. There's also The Grand Canal Shoppes, an indoor gondola ride experience with great boutiques and attractions. But The Venezia Towers and The V Bar is where you'll find high-class women and the rich-rollers; if high-maintenance women are your thing.
4. Hard Rock Hotel and Casino
4455 Paradise Road
Las Vegas, NV 89109
If ogling hot women in bikinis is what you live for, then head over to Hard Rock pronto. There's a great lagoon pool lined with real sand joined by a slow-current river, where fine women and models in bikini thongs like to swim in. A rocking pool party happens on Rehab Sunday, with cool DJs and loads of hot women looking to party. Hotel guests get in for free.
5. Flamingo Las Vegas Hotel and Casino
3555 Las Vegas Blvd S,
Las Vegas, NV 89109
Perhaps it's the alcohol, or the Caribbean-inspired design. But one thing is for sure : Ladies at the Flamingo poolside aren't shy about shedding those bikini tops. Whatever their reasons, we can't complain. For a wonderful sunbathing experience with sights more than your eyes can ever handle, visit the Flamingo's impressive pools.
6. New York – New York Hotel and Casino
3790 Las Vegas Boulevard South
Las Vegas, NV 89109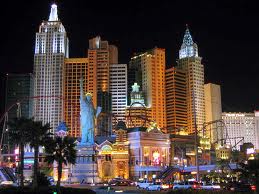 One of the best Las Vegas hotels, New York – New York Hotel and Casino scaled down the city to give you a taste of The Big Apple, boasting of 12 skyscraper replicas including The Empire State Building. Watch those hot bartenders dance and flip bottles to serve your drinks in Coyote Ugly, and don't miss the sexual undertones of Cirque du Soleil's Zumanity show.
7. Caesar's Palace
3570 Las Vegas Blvd S,
Las Vegas, NV 89109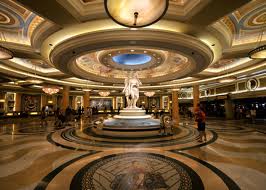 It's Caesar's Palace after all – A Las Vegas landmark. Just overlook the Roman décor and the staff in gladiator getups if that's not your thing. Hang out on Cleopatra's Barge instead, a floating lounge over an indoor pool. Or get your booze at The Seahorse Lounge, a drinker's paradise that features all martini varieties. And we mean all.
8. Treasure Island – TI Hotel & Casino
3300 Las Vegas Blvd S,
Las Vegas, NV 89109
Go on. Head on over to TI's Tangerine – a lounge and nightclub with burlesque shows, live bands and serious drinks. Or maybe you'd like Kahunaville's vibe more, with hot waitresses in a tropical setting. Or maybe you'd just like to be with somebody in TI's hotel rooms, designed for, well, hookups (amazing beds, huge soaking tubs, etc.).
9. Bellagio Las Vegas
3600 S Las Vegas Blvd,
Las Vegas, NV 89109
If exclusive casinos and great restaurants (Olives, Circo and Le Cirque) aren't enough to convince you to stay at The Bellagio, then maybe its Grand Patio will convince you to; After all, it's a popular hangout for international models. There's also the Fontana Bar, an upbeat lounge populated by hot women. One of the best Las Vegas hotels ever, The Bellagio is wonderfully classy and luxurious.
10.  Rio All-Suite Hotel and Casino
3700 West Flamingo Rd.,
Las Vegas, NV 89103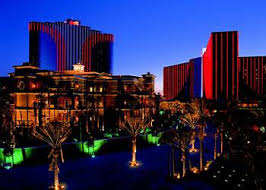 This exclusively adult hotel caters to very adult needs, and there are no kids allowed. For starters, sexy, almost-naked waitresses serve drinks at the casino. Head on to The Flirt Lounge, where partygoers notoriously go wild and crazy. Or go to the 51st floor and visit VooDoo Café and Lounge for drinks with a Mardi Gras-like atmosphere. There's always something at Rio for your manly needs.
If the word bar reminds you of a sad, old joint with an abused jukebox and a bunch of old-timers hanging around, then you need to go to Vegas ASAP.  Pick any of the best Las Vegas hotels on this list, party your way through Sin City and you'll never think of bars the same way. Viva, Las Vegas!