No Comments
Top 10 Tattoo for Men Design Choices by Famous Celebrities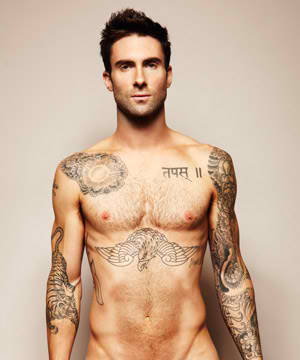 Finding designs for proper tattoo for men is not that difficult. Designs can be downloaded, and artists can be commissioned for a customized creation. You may simply ask the tattoo artist to carve the name of your favorite person at the moment, your favorite quote, a symbol, letters, numbers, flowers, animals, an image, or whatever suits your fancy. Or you can take inspiration from these famous celebrities. Take your pick.
10.Adam Levine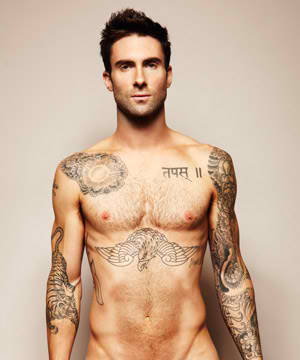 Adam Levine often shows off his many tattoos in Maroon 5 music videos. Most of his tattoo design choices are very personal such as the "Los Angeles" (the city where he was born), and the paw print in honor of Frankie, his Golden Retriever. Some of his tattoos are related to his Grammy-winning band, Maroon 5. The numbers, "222" was the number of the studio where the band recorded for the first time, while the "X" on his bicep represents the band's 10th year anniversary. Levine also has a dove and cherry blossoms design that he had shortly after the tragic events of 9/11.
9. Johnny Depp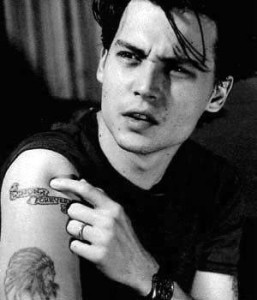 The brilliant character actor and leading man, Johnny Depp had his share of pitfalls in this career and his personal life as well. When he was in a very public relationship with "Edwards Scissorhands" co-star, Winona Ryder, he added, "Winona Forever" to his already cool collection. That relationship did not last forever. Depp's solution? The tattoo on his upper right arm now reads, "Wino Forever."
8. Mark Wahlberg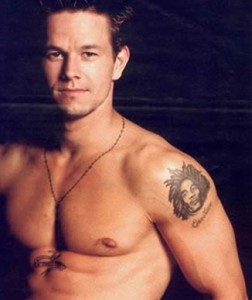 Actor and producer (and once upon a time rap artist) Mark Wahlberg has chosen Sylvester with Tweety in his mouth, a rosary, his initials, his parents initials, and his birthdate to be carved permanently on his skin. But the most striking of his tattoos is Bob Marley's immortal visage, and under it, "One Love."
7. AXL Rose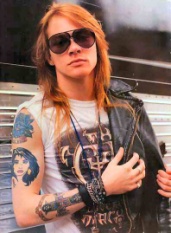 AXL Rose, the Guns N'Roses front man rocked hard in his heyday and wore his tattoos proudly. One of the most famous marks on his skin is the "Victory or Death" tattoo. Rose has both the words and the emblem on his left arm. "Victory or Death" is the famous motto of US Army's 32nd Armored Regiment.
6. Michael Scofield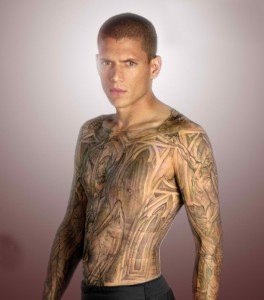 Michael Scofield's elaborate tattoo turned out to be more than the blueprints of Fox River Penitentiary. It was also a step-by-step plan for an escape to Panama and a detailed guide towards a new life for him and his brother. Scofield is a fictional character, the lead in the television series "Prison Break" that became a craze when it was on air. The actor who had his body painted, Wentworth Miller, did not get actual tattoos. He just had to endure 5 hours of prep. But that didn't make the designs less impressive.
5. Marshall Bruce Mathers III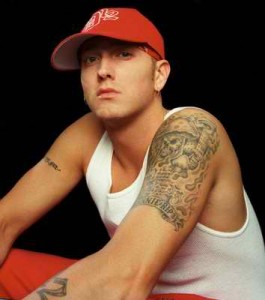 Emimen has a number of words, numbers, and figures tattooed on his person. Some of his tattoos are a bit troubling – "Slit Me," "Ronnie RIP," and "Rot in Pieces" with the open grave. Others are rather straightforward – the "D" for Detroit, where Mathers was born, "Hailie Jade," the name of his daughter, and "Slim Shady," his nickname, and "Eminem." The rap artist is quite public with the meaning of each one of his tattoos, but the Gothic bracelet that he is wearing seems to have been done in a fit of drunkenness because he does not know what it means.
4. Jack Bauer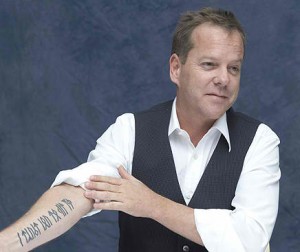 Kiefer Sutherland, more popularly known in some circles as "Jack Bauer," for his highly commendable portrayal of the anti-hero in the TV Series, "24" had a tattoo done for every great moment of his life. Sutherland has the Celtic crest of his clan carved onto his flesh. His other tattoos are Chinese character for strength, a very elaborate image of the Lady of Guadalupe, a barbed wire around his arm, and the Icelandic runes on his forearm reads :I trust you to kill me" in English.
3. Brad Pitt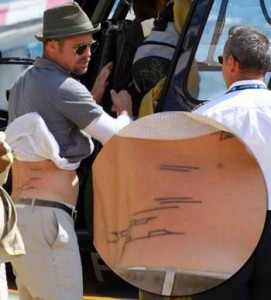 Tattoos for some people are marks that signify a memory, an emotion. It could also be a representation of the connection between people. Brad's most infamous tattoo, those lines on his back, turns out to be Angelina Jolie's permanent doodling on Pitt's skin.
2. Colin Farrell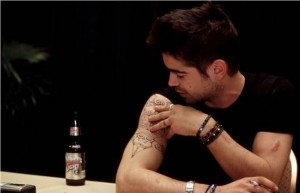 Colin Farrell's right shoulder tattoo had seen its share in the limelight. This abstract tribal design of a face and suggestions of animal figures were made in Tahiti. He has a "Carpe Diem" (Seize the Day) tattoo on his forearm. The other half of this set is now a cross. Originally it read, "…with my girl." On his wrist, "I Love (horizontally oriented) No Matter" (vertically oriented) in Sanskrit is now covered in Arabic.
1. David Beckam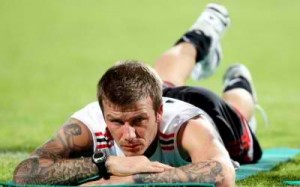 David Beckam is a great athlete and a huge fan of body art, evidently. He has a number of names and figures on his neck and torso, but the ones on his arms and forearms get the most attention. Most of the ones on his upper limbs are connected to his wife and their marriage. "Victoria" is spelled in Hindi, "I love and cherish" in Latin, and ten roses forming a ring to commemorate his 10th wedding anniversary. And on his forearm he declares, "Let them hate as long as they fear."