One Comment
Meatball Sandwich: 9 Healthiest Varieties You Can Eat On The Go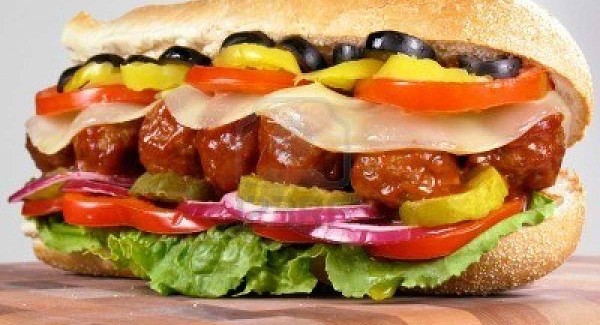 More men these days have realized it is important to know what to eat and when to eat in order to lose weight. However, not all men have the time to prepare those protein-packed and nutritious meals they need. In addition to that, only few fast-food restaurants have such food items in their menu.
If you are one of those men looking for a healthy fix that you can eat on the go, a meatball sandwich may fit your needs.
Here are 10 hassle-free and healthy varieties of meatball sandwiches that you can make at home:
9. Italian Meatball Sandwich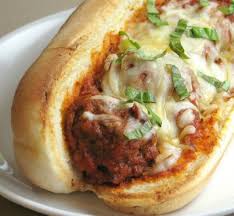 With approximately 309.6 calories per serving and 20 grams of protein, this is definitely a meatball sandwich made for men.
To make your very own homemade Italian meatball sandwich and save plenty of cash, follow these simple steps:
In a bowl, mix lean ground beef, breadcrumbs, and a quarter cup of onion. Form this into meatballs of desired size.
Use a non-stick skillet if possible, and heat oil over medium-high flame. Add garlic and 3 quarters cup of onion. Cook until onions are golden brown.
Add the meatballs and cook until the bottom of the meatballs are brown.
Turn meatballs over. Add tomato, tomato paste, sugar, basil and oregano.
Cover and let it cook for 10 minutes.
Use a huge slice of bread, preferably a sub. Spoon meatballs, topping it with mozzarella cheese, and cover it with the top half. Cut into as many sandwiches preferred. Enjoy!
8. Buffalo Meatball Sandwich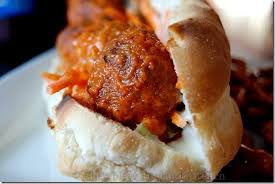 41.3 grams of protein makes this one hell of a meatball sandwich for those who want something tasty on the go!
Follow these simple steps below to make one for yourself:
Preheat oven to 350°F
Mix lean ground buffalo, 2 egg whites, half cup wheat germ, third cup of chopped onion, 2 tablespoons of parmesan cheese, and about a teaspoon of minced garlic. Shape this into as many proportionally sized meatballs as you like.
Coat baking dish with cooking spray and place meatballs. Bake for 15 to 20 minutes.
While waiting, slice baguette in half lengthwise, and place the bread in the oven once 10-12 minutes have passed after baking.
Brush meatballs with oil and season with pepper.
Warm spaghetti sauce in a pan, and coat the meatballs.
Line them up in the bread half. Top with mozzarella cheese.
Put baguette in the oven for a minute or two.
Leave it to cool for a few minutes and then slice it into pieces.
7. The Tequila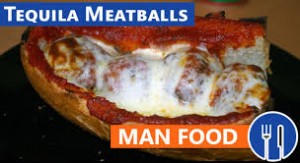 With more than 20 grams of protein per serving, this protein-packed tequila flavoured meatball sandwich is just the right thing for the manly man out there.
Make one by following the procedure below:
Combine sugar, canned sauce, parmesan cheese, as many shots of tequila as you like. Simmer it in low heat.
Put ground beef, about 8 oz of chopped mushrooms, a small onion (chopped), a well-mixed egg, parsley, salt, pepper, basic, and garlic in one huge bowl and mix them all together.
Put butter in a pan, use medium heat and start forming the mixture to meatballs after the butter melts.
Cook meatballs for no more than 9 minutes.
Cut Italian bread in half, hollow out the middle, and put the meatballs.
Add sauce and provolone cheese on top.
Bake it for a few minutes or put it under your oven's broiler until it turns a little brown for added taste.
6. The Low-Calorie Meatball Sub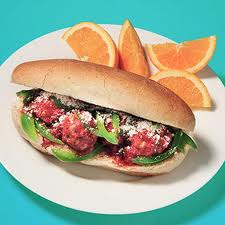 With 1 gram of protein for every 13 calories, this is definitely a meatball sub for every health conscious man.
Here's how to make one:
Preheat oven to 350°F
Combine a pound of turkey, whole wheat bread crumbs, quarter cup of parmesan cheese, one egg, 1 tbsp oregano, 1 tbsp parsley (chopped), ½ tbsp sea salt, chopped garlic, salt and pepper in a large bowl. Mix well. Then form small meatballs.
Coat baking pan with cooking oil or cooking spray, and bake meatballs for no more than 15 minutes.
As you bake, heat up a can of dried tomatoes in a saucepan. Add garlic, parsley, oregano, basil, salt and pepper if necessary.
Place meatballs in the slice of bread. Add 1 slice of provolone cheese. Cover the bread.
Bake for no more than five minutes.
5. The Japanese Meatball Sub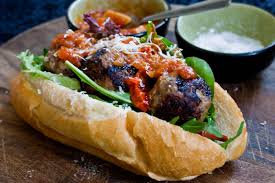 This is a meatball sandwich with a Japanese twist, packed with 25.7g of protein for every serving.
To make one, here's how:
Preheat boiler to high.
Mix 1/3 cup panko, ¼-teaspoon salt, ¼-teaspoon crushed red pepper, 90% ground sirloin, 3 cloves of garlic (minced), 1 large egg, in one huge bowl.
Put them in a baking pan covered with a heavy-duty baking sheet with a cooking spray coating.
Broil 6 inches from the heat for no more than 7 minutes.
Bring 1 and a half cup low-sodium marinara sauce to a simmer. Add meatballs for coating. Keep warm.
Coat insides of preferred buns with cooking spray. Broil for 2-5 minutes. Top each bun with preferred number of meatballs and 1/3 cup of sauce. Add pepper, onion, and cheese if preferred.
Broil sandwich until bubbly and brownish.
Garnish with basil if you want.
4. Kale Turkey Meatball Sub

While not as protein packed as the others on this list, it is still worthy of mention as this meatball sandwich has a great protein to calorie count ratio.
Here's how to make one for yourself.
Add 3 tbsp of olive oil in a pan and heat over medium high heat. Add 2 cups of fresh kale (chopped), garlic, dried rosemary, parsley, oregano and thyme.
Use a food processor to mince kale mixture and garlic. Combine with 1 egg, 1 lb of turkey, and mix well.
Form meatballs.
Cook meatballs until brown on all sides.
Spoon tomato sauce and sprinkle cheddar cheese on top.
Bake or melt in microwave or toaster if you want.
3. Marinara Meatball Sandwiches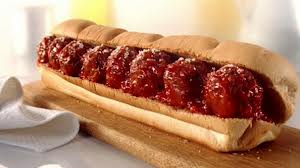 Aside from NOT looking like a typical sub, this is a meatball sandwich with a little less calories per serving, and yet more protein pound-for-pound!
To munch on this at your leisure, follow these steps:
Spray cooking oil in a pan. DO NOT PUT IT in oven yet. Preheat oven to about 400°F.
Combine 1 lb ground turkey, a single grated zucchini, sliced onion and garlic, egg, breadcrumbs and pepper. Mix well with your hands. Form into the desired size of meatballs.
Put meatballs in pan and bake for no more than 20 minutes.
Combine tomato sauce, salt, pepper and vinegar in a bowl and heat in a microwave or over a stovetop.
Put meatballs in each sandwich and top with marinara. Make sure to divide evenly among sandwiches, especially the cheese.
Microwave or put in broiler for a minute or two.
2. The Buffalo Turkey Sandwich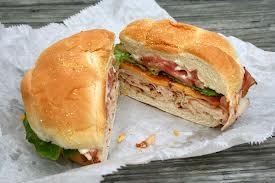 While others in this list use buffalo or turkey, this one uses both! With approximately over 20g of protein, and as much calories as the others, this is definitely a good idea for any busy man.
Use the same set of procedures with the buffalo meatball sandwich in this list. However, heat the oven to 400°F instead, and use a whole-wheat ciabatta for a better fitting taste.
1. The Healthy Meatball Sandwich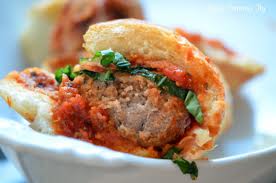 While this is not an exact recipe, this does deserve mention.
What you do is that you choose any recipe out there, or even any of the ones in this list. However, instead of using the sauces, use a creamy Greek yogurt sauce, top with pan-seared grape tomatoes, minced garlic and crushed bell or red pepper.
It's tasty. It has all the proteins of other recipes. Yet, you do not feel as guilty!
Make Your Own Protein-Packed Meatball Sandwich Now!
Make any one of these and I assure you, you will have a protein-packed, nutritious and scrumptious meal to satisfy all of your cravings!
Do you have anything to add, say and/or share? Leave a comment below!