No Comments
Ten Ways to Have Sex in the Shower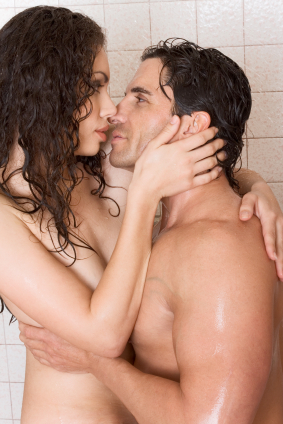 Having sex in your bed is so circa 1999 MTV Undressed. It's time to move beyond the confines of your super hero sheets and start hitting and quitting it in comfort and warmth. I'm talking about no other than your shower. Sure, you've tried in the past and probably failed a few times; it can totes be difficult. I know there have been times where I've held on to the wrong edge or support system, lost grip, slipped and fell flat on my face. So sexy. Any how, you can succeed, you just have to put your mind to it and maybe not be drunk. I don't recommend that cause as fun as drinking and a shower concussion can be, it's not. Check out these ten shower positions and then try your hand (and leg, back and other hand) at it.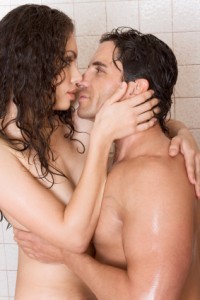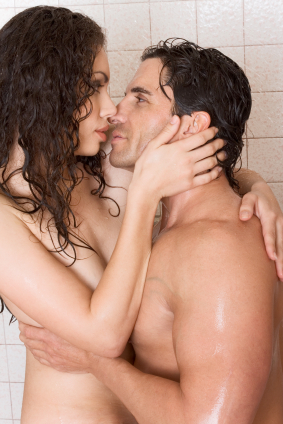 Standing Doggy Style:
This is the easiest position to utilize in the shower. Just bend your girl over and go to town from behind.
Kneeling Doggy Style:
This will potentially hurt your knees, but can be very successful in a larger shower. Have your girl (or boy) get on all fours, then kneel behind them. Enter from behind. Jackpot.
Up Against the Wall:
Short on space? Up against the wall is a great option. You can do this one from behind or up front. I recommend putting your girl up against the wall for this one. Have her brace her hands on the tile, the shower head or a sturdy shower rod, then take her to pound town.
Leaning Leg Wrap:
If you have a little more space, you can change the up against the wall one a little bit. Have her lean against the wall, navigate between her legs and then have her wrap one of her legs around your waist. If she's super flexible, she'll be able to aim for your lower back, which could give you both a little more leverage. You'll end up leaning into this one.
Shower Bench: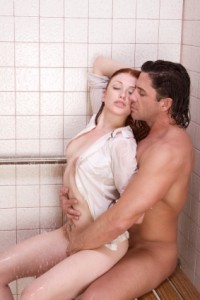 If you're fancy enough to have a shower bench that will be your best bet. You can use it in a plethora of ways, but I personally recommend sitting down on it and then have your girl sit on top of you–either facing away or facing towards you. Both will get the job done.
Now let's move to the floor.
Missionary:
Why make things interesting in the shower when can you just stick to a tried and true? Have your partner lay on the floor, then just climb on top. This position only works if you have a tub shower or something bigger.
Girl on Top:
Less floor space? That's cool, just sit down and then have your girl sit on top of you and ride it out. This is great for getting a handful and a decent amount of hot water on the both of you.
Reverse Cowgirl:
Make your sitting party a little more fun and have your girl turn around and get her cowgirl on–her reverse cowgirl that is.
Give Her Props:
You can also always use the tub edge or the shower bench as a leg prop. Prop up your leg, squat it out and then enter her as she faces you. As a bonus, this will be a great leg work out, so no need to go to the gym on shower sex days.
None of these positions striking your fancy? Fine, be difficult. You can always hit up oral or a good ole fashioned handy. If you have a girl who gets flinchy when you go downtown, the shower might be a good option. She could potentially be uncomfortable with you being down there, but being in the shower will leave he rest assured that everything is nice and clean. Surprise her with a glass or silicone dildo from Adam and Eve. These are great toys to pair with shower time fun because they are water proof and super easy to clean. You can also go for the handy, but be careful about soap choice. While it makes for a decent lubricant, it can get in the uretha and cause an infection.
A few other small pointers for shower time fun:
Be sure to not run out of hot water. A sudden switch to cold water is sure to squelch any sexy time.
Check your shower rod or any other handle bars you may have in your shower before using. A lot of shower rods aren't actually screwed into the wall and will undoubtedly end in one of you falling flat on your face (like I've done many times before).
And finally, consider getting a shower mat or at the very least throw a towel down. This will help reduce the inevitable slippage and unfortunate bruising.