One Comment
Top 10 Funniest Dirty Knock Knock Jokes to Say to Your Friends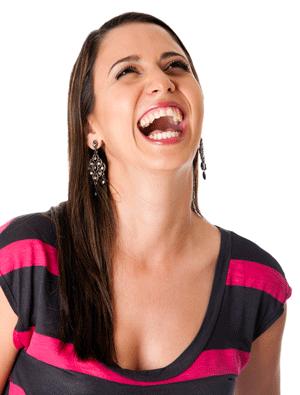 Dirty knock knock jokes are surely appealing to any adult audience unless you are in a church gathering. These naughty knock knock jokes are always good for a laugh and some can be a good icebreaker when talking to a group of girls. Dirty knock knock jokes are also good back-up jokes when you are goofing out with your friends. It will sure give the group a good laugh when you've got nothing else hidden under your sleeves. So if you don't want to become the brunt of your friend's humor or you want to impress a girl with your naughty humor, you can stand out of the crowd of clowns with these top ten dirty knock knock jokes list.
10. Knock Knock! Who's there? Howie. Howie who? Howie gonna get it on if you won't open the door?
This dirty and flirty knock knock joke will surely get the sweet smile of any naughty girl with a sense of humor. With precision timing, you can use this joke as a flirting tool to get any naughty girl in the party. Best thing you can do that is put on your naughty face and whisper the joke in her ear.
9. Knock Knock! Who's there? Buster. Buster who? Buster Cherry! Is your daughter home?
This is one great knock knock joke if the group of audience you are with are people who doesn't really mind if their humor is a little bit raunchy. However, you might not want to tell this joke to any of your friends who really do have a cute and hot daughter.
8. Knock Knock! Who's there? Ivan. Ivan who? Ivan to do something naughty with you!
If you are in a party and you are looking for a good way to tell that hot girl that you would like to take her somewhere and tales things a little further with her, you can certainly use this flirty and naughty knock knock joke to drop her hint. This is a safe way to way to tell her because if she's not receptive to the idea, then it's just a joke then you get away with it safely with you being demoralized. But if she's open to it, then expect a conversation of what happens next.
7. Knock Knock! Who's there? Cam. Cam who? Camel toe! Do you have pants I can borrow?
Well, as the joke says, this is only good for women, but, you can still make use of this joke to get a girl. If you are in a group exchanging knock knock jokes and your hot friend doesn't have one to throw, you can save her by teaching her this joke.
6. Knock Knock! Who's there? Kahn. Khan who? Khan-dom broke! I hope you're on the pill!
This knock knock joke will surely put you on the spot light with your friends as almost everyone can relate to it. This is a great joke to tell whether you have an all-male group of audience or a mixed party. Be sure with the timing though as you don't want it to become a dry humor. Just be sure not to throw this on in bed or all you're getting is a slap.
5. Knock Knock! Who's there? Dewey, Dewey who? Dewey have to wear the condom?
This dirty knock knock joke will surely is great in mixed audience. You can throw this one with your friends when you are throwing knock knock jokes and it will surely put you in the lime light. This joke can also serve as a pick-up line you can tell your hot friend you want to start flirting with. If she doesn't respond to it, then it's just a joke.
4. Knock Knock! Who's there? Juicy. Juicy who? Juicy the rack on that babe just now?
This joke is great to throw as an ice breaker with your guy friends. However, this joke requires great timing or it will just be a corny joke. But when you get the timing right, expect a burst of laughter from your friends. This is great when you are at a party and a hot girl with nice big racks pass by your group.
3. Knock Knock! Who's there? Dover. Dover who? Ben Dover and I'll give you a big surprise!
This is probably one of the dirtiest knock knock joke you can throw on your female audience. You can also use this joke as a way to send a message to your friend that you want to take things a little farther with her. One good way to use this as a tool for flirting is by whispering this joke on the girl. If she responds to it, you can expect a conversation that would lead to what happens next.
2. Knock Knock! Who's there? Ike. Ike who? Ike can rock your world baby!
This dirty, flirty and clever knock knock joke can double as a pick-up line to get any hot girl. However, with this knock knock joke, you should have the right moves with you to back-up the boasting or you will end-up with nothing. This joke is also great when you are throwing jokes with your mixed group of friends. With this joke, you can safely flirt with any hot girl in the group.
1. Knock Knock! Who's there? Scott. Scott who? Scott to be nice, having a body like that!
This dirty knock knock joke is probably one of the best ways you can flirt with any of your hot girlfriends. This joke can both act as a joke you can throw anytime with any girl without offending them and can also serve as a pick-up line to get the attention of the girl you want to flirt with. What's great about this joke is that even if the girl doesn't respond to your flirting, you can still remain confident and not demoralized as they will take at as a compliment.