No Comments
7 Ways Fat Men Can Get Laid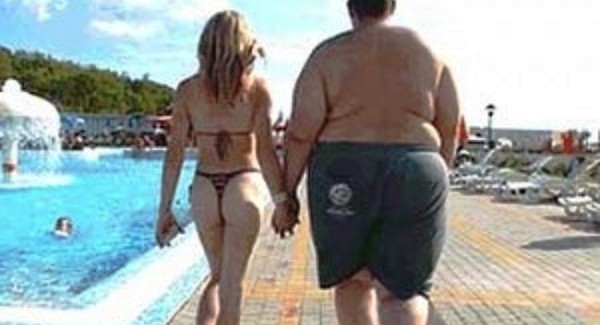 Getting a date may look like a herculean task for a fat guy. On the other hand, getting laid  is more like "mission impossible" for the flabby dude. But all it takes is for that rotund man to accept his size and work with it.
Here are 7 tips that fat men can try to snag a date and get laid:
Master chef
It's pretty much safe to assume that fat men love to cook as much as they love to eat. Use this to your advantage. Cook a sumptuous meal and get her impressed. If you get her to have dinner at your place, you are a step nearer the bed. Just as in men, the best way to her heart is through her stomach. And although what you're after is slightly below the stomach, you're definitely going in the right direction.
Laughter is the best medicine
If humor is your gift, spread it. If not, practice it and be witty.  Men with a good sense of humor laugh a lot of women to bed. Women love men who make them laugh. Cracking smart jokes or dishing off witty and humorous lines will get her attention. Once you get her ears, the rest of her body parts will follow soon.
Dress to kill
No, No don't kill her. Dress smartly to get the attention off your flabs. Don't wear clothes that make you look heavier. Pay attention to details and do not try to conceal your weight. The perfect clothes would be the ones that show a clear and defined body shape. Heavyweights look best in long sleeves and trousers. Avoid wearing loose shirts, baggy shorts and tank tops.
Common ground
Nearly 70% of adults in America are obese or overweight. Hence, there must be someone in her life who is fat. Find out who that person is and use that person as a common ground. She can relate more to you if you relate yourself with someone close to her. This could be her Achilles heel which could seal the deal.
Talk her into it
There is this quote from Voltaire that says: Give me 10 minutes to talk away my ugly face and I'll bed the queen of France. That fellow is damn right. Your looks won't make you coast to victory. But you'd be surprised that you can talk women into it–all of it. Learn how to talk to different women. The gift of tongue starts with talking and ends in licking.
Fat is just your shell
Your size alone makes you stand out from the rest. It will get you noticed right away. Take advantage of that and show off your personality to her. Being fat is just a shell. There is a person underneath all that fat. Let your originality baffle her. Let your uniqueness interest her. If you get her to open up and talk to you, you'll surely get to open other things later in the night.
Be confident
So you're fat, now what? You own it. Women like men who have confidence in themselves. Just because you're overweight doesn't mean you cannot be proud about yourself. Be proud and be loud. Learn to love yourself and how you look. Other people will embrace you if you embrace yourself.
So stop thinking about laying fat eggs when it comes to scoring women. Being fat is your fact. But getting laid isn't fiction.