No Comments
Top 10 Sexiest Tribal Back Tattoos For Men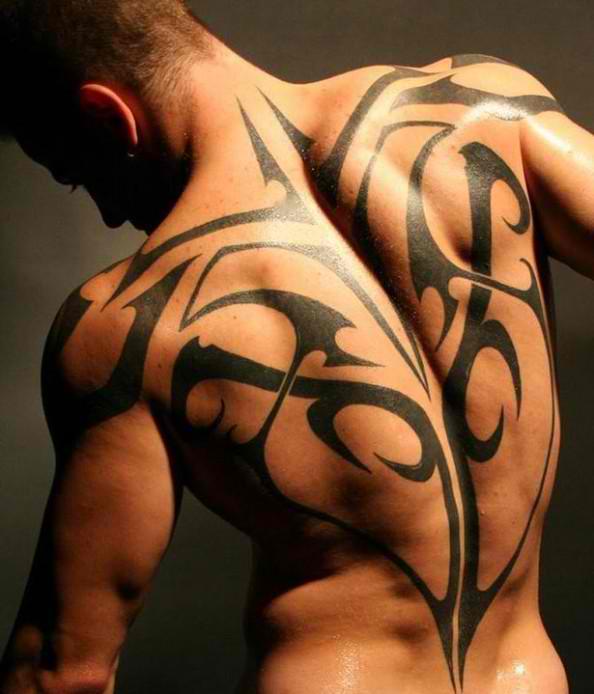 Tribal back tattoos are not just applied for aesthetics' sake. Tribal designs, for instance, may symbolize the life and emotions of the wearer. It doesn't harm that women find them sexy too. If you're planning to get inked, here are just 10 of the sexiest tribal back tattoos you must try:
This is the perfect back tattoo for men who don't want to flaunt their entire back just to attract women. Designs for this tattoo may range from simple tribal symbols positioned in the center that can extend horizontally up to the shoulder blades. To make the tattoo even sexier, a nice skin and well-developed upper back muscles will do the trick.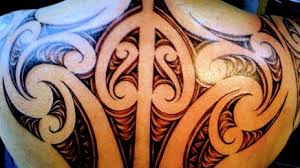 Maori tattoo is used to depict the life story of a person. It focuses more on the shape and design rather than the colors. Many men love this tattoo to be imprinted on their back because they can tell their life story in an artistic way.
8. Big Fish Tribal Back Tattoo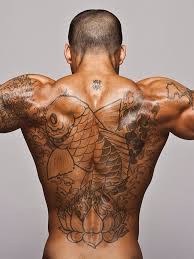 A big fish in a tribal design can also be used to represent a man's life. This tattoo design can hold many meanings such as prosperity for the fish hook, adaptability for the teeth, and courage for the head.
As one of the oldest tribal back tattoos, this cross design symbolizes faith and God. Imprinting this symbol on your skin can show your faith and love to God in a simple manner.
6. Expendables Fame Tribal Back Tattoo
Inspired by the hit movie "The Expendables", this tribal back tattoo design is a great way to attract women a la Sylvester Stallone. The Expendables is oozing with masculinity that women find it so sexy.
One of the finest animal-inspired back tattoos, this scorpion design symbolizes many aspects of a man's life. Although simple, it still has the element of sexiness and masculinity that every woman looks for a man.
4. Back Bone Tribal Back Tattoo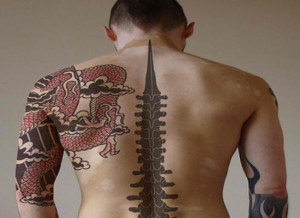 Getting your back inked with a back bone tribal design is another perfect way to showcase your masculinity. The back bone is the main support of the human skeletal system; therefore, a tattoo with such design can show that you're a strong and dependable man. The best part of having this tattoo is the option to broaden the design and concept not just vertically but also horizontally.
3. Dragon Tribal Full Back Tattoo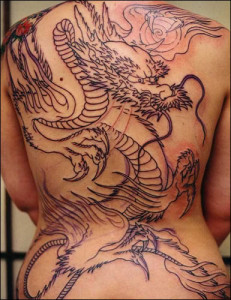 If you want to show your superiority and masculinity through tribal back tattoos, one of the best designs available right now is dragon tribal. Dragons have been an icon of many cultures particularly in China and Japan, where they represent power and majesty.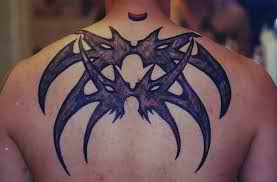 Like any other animal-inspired tribal back tattoos, this spider design is also popular among men who want to display their masculinity. A spider tribal back tattoo doesn't need to look like a real spider; lines that intersect with each other and shaped like a spider will also do the trick.
1. Negative Tribal Back Tattoo
The simplest yet most popular tattoo for men is the negative tribal back tattoo. The design of this tattoo can be achieved by simple lines that connect at each end.  Unlike other designs with shadings, the inside part is usually left empty. It may be simple but women find this design the most attractive of all.
Nowadays, tribal back tattoos are done to show the artistic side of people. For this reason, choosing the right tattoo to complement your personality is really important.
Your Turn
Do you have any other designs for back tattoos that you think should be added in this list? We'd love to hear from you.