No Comments
Win the War on Baldness: Top 10 Hair Regrowth Products for Men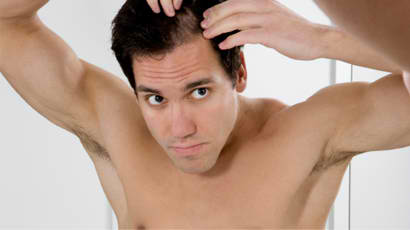 Hair loss or receding hairlines are common to men and may sometimes cause embarrassment.  And hair loss is not just about stress or a nutritional deficiency.  Hair baldness in men can be a genetic thing or due to the DHT (dihydrotestosterone) hormone.
If you are starting to lose your hair, these top 10 hair regrowth products for men should come in handy:
1. Rogaine for Men Hair Regrowth Treatment (5% Minoxidil Foam Aerosol)
Rogaine is the first FDA-approved topical hair regrowth product for men and women. The active ingredient minoxidil is clinically tested to  work on areas that just recently gone bald. By effectively stimulating the hair follicles, Minoxidil guarantees an 80 percent success of hair regrowth.  It is safe to use, not messy and dries off quickly.
2. Provillus Hair Treatment for Men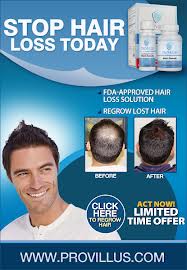 Clinically proven safe, Provillus also has the active ingredient minoxidil.  What makes it different from Rogaine is it comes with a Provillus capsule that is fortified with natural ingredients such as Vitamin B6, zinc, nettle root and ginseng to support hair growth.
3. Kirkland Minoxidil 5% for Men (Extra Strength)
This product has a liquid formula that works well for baldness at the top of the head (vertex only).  The only downside of this is it does not dry up as quickly as the other topical formulas in the market.
4.  Procerin for Men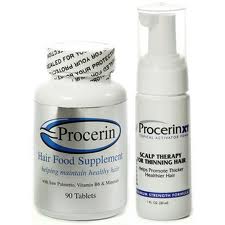 Made from herbal ingredients, Procerin comes in a tablet or topical foam formula.  The tablet is taken orally and contains a blend of natural ingredients  that helps stimulate hair growth.  Procerin also contains an ingredient that helps stop the conversion of testosterone to DHT which then leads to hair baldness in men. Procerin works best in men aged 18 to 35 years old.
5. Lipogaine for Men: Intensive Treatment and Complete Solution for Hair Loss/Hair Thinning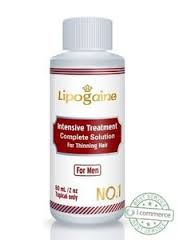 Lipogaine is a liquid formula that contains the active ingredient Minoxidil combined with herbal ingredients to block DHT formation plus vitamins and minerals to stimulate hair growth.  Clinically proven safe to use, lipogaine is a holistic approach to hair regrowth.  It is also recommended to use the Lipogaine shampoo to get the most benefit of the product.
5. Profollica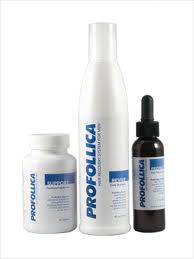 This product follows a 3-step method to fight hair loss in men.  The package kit contains the Profollica shampoo, lotion and oral supplements.  The first two products reduce the amount of DHT formation that leads to hair baldness.  The oral supplements, on the other hand, are designed to stimulate regrowth of hair follicles and maintain  their healthiness.
6. NuHair Hair Rejuvenation System for Men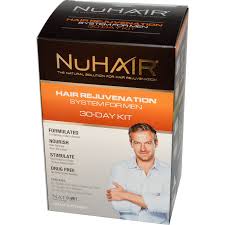 This product kit offers 60 tablets for Hair Rejuvenation, 60 oral supplements that act as DHT blockers and a hair serum that restores and strengthen regrowth of hair follicles. It contains all-natural ingredients and is clinically safe to use.  75% of users guaranteed that this product really works and hair grows back thicker in just 6 to 8 months.
7. Vanarex Hair Regrowth System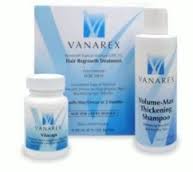 Approved by the FDA, this 3-system hair grower is an effective formula that brings results in 90 days.  The Vanarex kit contains a topical formula for hair growth in the scalp area, oral supplements to block DHT formation and a shampoo that maintains hair fullness and strength.
8. Propecia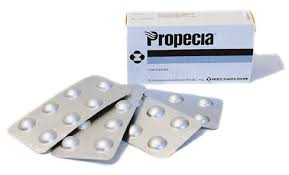 This is the first drug proven to combat baldness in men. Propecia is a prescription drug that contains the active ingredient Finasteride that inhibits levels of DHT that shrinks hair follicles.
Finasteride has been clinically proven effective in arresting levels of DHT.  However, like many prescription drugs, Propecia has its side effects which may include decrease in sexual ability, abnormal ejaculation, weakness and pain in the testicles.
9.  Advecia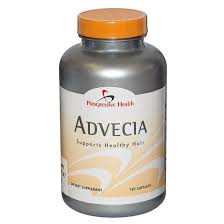 Advecia is a nutrient-rich herbal formula that helps block DHT formation.  Some of its ingredients that help treat hair loss are grape seed extract, palmetto berries, and green tea extract.  These ingredients contain Lysine and Arginine,  two nutrients that actively promote hair growth.
10. Profinast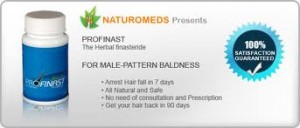 Profinast is the herbal form of finasteride in combination with other herbal and nutrients. It is designed to stop hair fall in men within just 7 days.  Continuous use of Profinast tablets can help block DHT formation, improve blood circulation, and stimulate hair follicle regrowth within 90 days.
According to the American Hair Loss Association, 85% of men would experience hair thinning by the time they reach 50.  Fortunately, there are many ways and products today that offer hair regrowth solution.  However, these products have varying effects. Hence, we advise that you ask your doctor first before trying any of these products.