No Comments
Oral Sex Positions: 10 Naughty Ways to Go Down On Her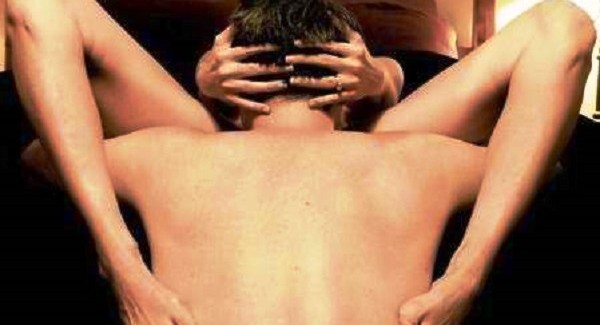 Having sex with your woman doesn't just mean banging that pussy to orgasm. Women also get equally satisfied with oral sex and enjoy it as much as you do. It's not enough that you penetrate her, but you've also got to taste her like ice cream.
So say the alphabet with your tongue on her vagina using these 10 oral sex positions:
Legs up
Start by letting her lie down on the bed. Spread her legs, raise them up and put them over your shoulders. Arch her back a little bit but put one or two pillows for cushion. Make sure that you are able to hold her ankles with your hands. Now you are face to face with her pussy. Gently pull those vaginal lips apart with two fingers. Lick the inside walls. That clitoris is waiting for your kiss.
Doggie style
Make sure she is on all fours and that her butt is up, facing away from you. She should be in the exact position as when you want to have doggie style sex with her. It's best if she does this while her buttocks are hanging over the bed and you are kneeling at the floor. In this position, you are able to rub her backside with your hands. Let her play that pussy with her fingers while you are moistening it with your tongue. If you feel the need, you can spank that naughty butt gently.
68
The 68 is a variation of the 69 where only one of the partners does oral sex. In this case it is you. So what you do is lie flat on your back on something comfortable. She will be on top of you facing away. Brace yourself for her weight. And when she gets into position, you are ready to go lip to lip with that other mouth. You may need the assistance of your hands to play with it while your tongue is fooling around.
Yoga stretch
This oral sex position is a variation of the "legs up" position which we discussed earlier. Let her lie flat on her back and raise her legs up while you are in front of her. But this time stretch them to a forward direction which is going to her face so that she would be in a yoga like stretch. Having stretched her pussy by virtue of her position gives it more pleasure when you are fondling it with your tongue.
180 ride
She'll begin by riding your face for a couple of minutes. Move her hips and pelvis around you face until she completes a 90 degree turn. After a short period of time, make her rotate similarly until she faces the direction which she started in, hence making a full 180 degree ride. The purpose of the ride is for her to gain full control of the speed, position and pressure of your tongue licking. And because she's the driver, the more she'll be satisfied.
Move like a clock
Clitoral orgasm is more pleasurable when men lick the vagina from a horizontal position. This is achieved when you rotate from the three o'clock position to the nine o'clock position.  From your point of view, you are still licking her vagina from top to bottom. But because you are in a horizontal position from her, it is actually licking her pussy from side to side. As a result, what you are actually doing is fondling across the clitoris. That's what gives it the extra mustard.
911
No, it's not a position and there is no third person involved here. But there is a third party. The average woman takes around 20 minutes to reach climax via oral sex. So you've got to be patient and you've got to work your hardest. So to ensure quality, you may request emergency assistance from her favorite toy—the vibrator. Now use a small one so your tongue will still be the lead actor. Just place it in the clitoral hood while you focus on the labia area.
Clothes on
If she's not wearing pants, this works like a charm. Pull up her dress or skirt and let her sit at the edge of something like a bed, a chair or an office table. Make sure that when you kneel you are in between her legs. You don't even have to take off her panties. You can just push them aside so you can start going to work. The feel of her underwear on her vagina gives her a different kind of sensation. The feeling of spontaneity also makes it much more gratifying.
Standing up
Lie across a bench while she is standing up over you. From this altitude, she will have the perfect view of your body. That will be and added turn on for her. On the other hand, lying on your back with her standing up makes you more relaxed rather than having her sitting over you. She can even lean forward with her hands to tease you and perk you up. A little eye contact every now and then adds sensation for the both of you.
Sideways 69
They say there are 70 ways to make a woman happy. Shopping is number one, and the rest is 69. There is no better way of getting oral sex than giving it back simultaneously. Doing the sideways 69 is not only a more comfortable oral sex position, but it actually gives men more access to the vagina. Mentally, this will be an equal position where there is nobody on top of the other. That's what makes this special. Couples should always work side by side.
Always keep in mind that it's always better to give than to receive. Get ahead in the game by giving her a head.