No Comments
Mens Wedding Attire: Top 10 Style Tips & Ideas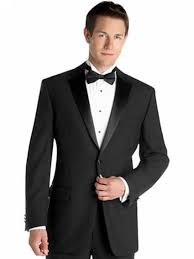 Whoever said that men are oblivious to wedding preparations must be from another planet.  A man gives his fiancée the freedom to decide where they should get married, where they must hold the reception, and how many people should come to their wedding because he loves her.
Meanwhile, he tries to figure out which men's wedding attire will make him the handsomest groom in the eyes of his ladylove on the day they wed.  Below are 10 fashion tips on how to look dapper on your wedding day.
10. Strap the right watch.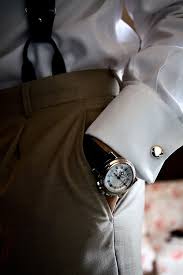 Like shoes, your watch should match not only the color of your belt but also its material.
9. Wear the right perfume.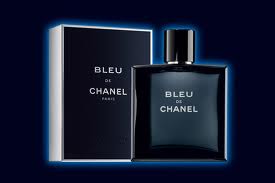 Choosing which perfume to wear on your wedding day is like choosing which tie to wear.  Bleu de Chanel's musk, Marc Jacobs's fresh fragrance, and Gucci's sexy aroma are just some of your choices. The answer would depend on the time of your wedding.  A sexy scent would do for an evening wedding, while a lighter fragrance is more suitable for daytime.
8. Cool shades.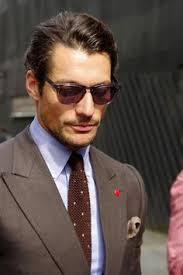 Wear a pair of sunglasses that do not have a very dark tint if you're having a beach wedding.  Still on the matching game, the color of your shades should match that of your shoes. 
7. Shoes and belt.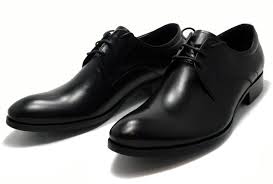 While a pair of sleek leather shoes or boots would look elegant, loafers offer more comfort.  Your wedding day does not end after you and your fiancée say your "I dos."  Mingling with guests and dancing require a lot of footwork, so you need a pair of comfortable footwear that will match the color of your belt.
6. Which tie?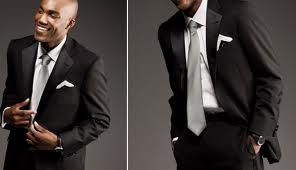 Neckties and bows are staples in men's wedding attire.  Gray, blue, brown, black, and silver are among the usual necktie colors, but on your special day you can opt for some prints.  Try a striped tie or one that has polka dots.  While you're picking your tie, just don't forget tip #3.
Meanwhile, a worsted wool tie is your best option if you are getting married in the winter.  It will keep you warm yet stylish.
.
5. Or bow?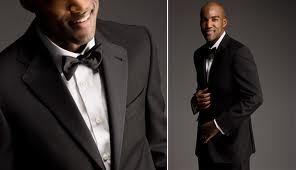 If you're opting for a bow tie instead of a necktie, pick a tie that matches the length of your collar.  Just try to avoid very bright colors to avoid looking like a mascot.  You can wear a vest over your shirt since bow ties and vests really blend.
4. Accentuate your suit.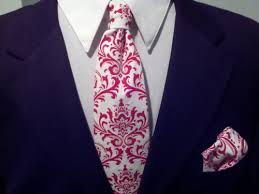 Wedding gowns are to brides as suits are to grooms, so it is very important not to leave yours bare.  Put a pocket square that matches your tie in the breast pocket of your suit.  If you are wearing a silk tie, put a linen pocket square in your breast pocket, but a silk pocket square blends well with a cotton tie.
Meanwhile, the rule of thumb in wearing cuff links is to match these accessories with the color of your tie.
3. Pants and socks combination.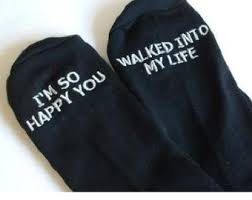 If you wear black socks to work, ditch them just on your wedding day.  The color of your socks should match that of your pants or dress shirt.
2. Comfy dress shirt.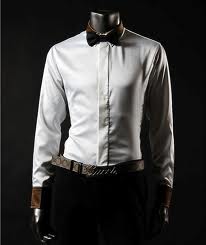 You need to wear a dress shirt under your suit, but not just any shirt.  See to it that your dress shirt's prints complement the suit.  For instance, a floral shirt can match a cream linen suit or a checkered blue shirt with a yellow cotton blazer.
Don't wear a shirt with very big patterns because it will get more attention than the suit.
1.Pick a classic suit.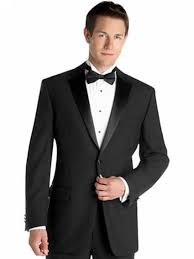 Stick to classic lines, shades and patterns to be safe.  Your wedding day is not the right time to experiment with screaming colors that are anything but manly.
You can never go wrong with a suit in the shade of white, cream, or custard yellow.  Gray and navy blue blazers are also classic pieces, but leave these to the guests and groomsmen.
Your Turn
Did you find these tips helpful or did we miss out anything?  If you wish to react or suggest another men's wedding attire, feel free to drop a note here.